With over 2.5 million downloads to choose from from Google Play, Android's official app store, it might not be surprising that developers are doing everything they can to stay ahead of the competition. But as anyone browsing the store knows, the result isn't a particularly pleasant experience with all caps, emoji, and superlatives dotted all over the place.
It looks like Google is finally having enough and stepping in to make the Play Store a quieter place to browse. The company has posted new guidelines on the Android Developer Blog, intending to apply the new policy "later this year."
The blog post uses the example of a fictitious trip planning app called Crane, and gives several examples of what is and is not allowed in the future. For reference, here's Google's idea of ​​what a crisp, clean, and acceptable app list should look like: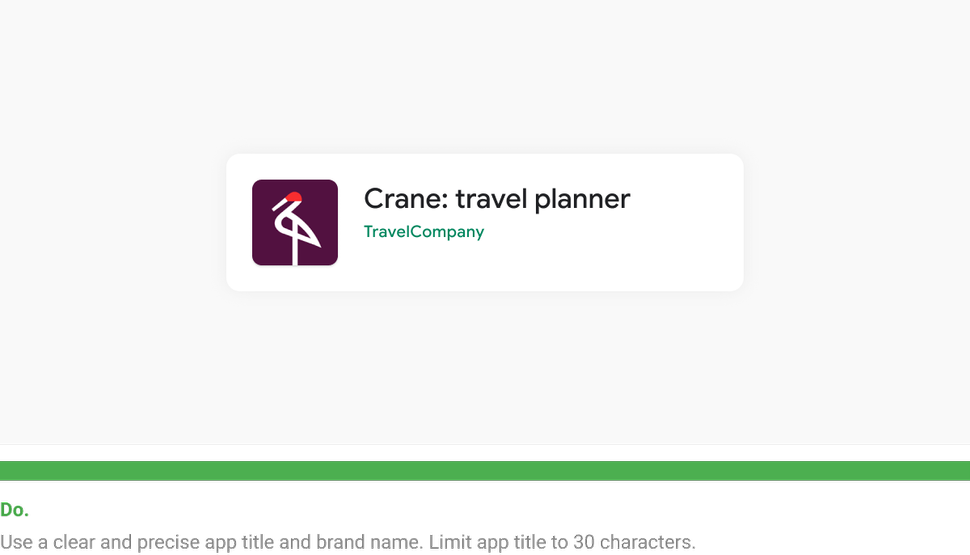 So what sort of stuff are developers getting off with right now? A big no-no is with apps that try to imply Google popularity or endorsement in listings, whether in the title, company name, or app icon. Something like that: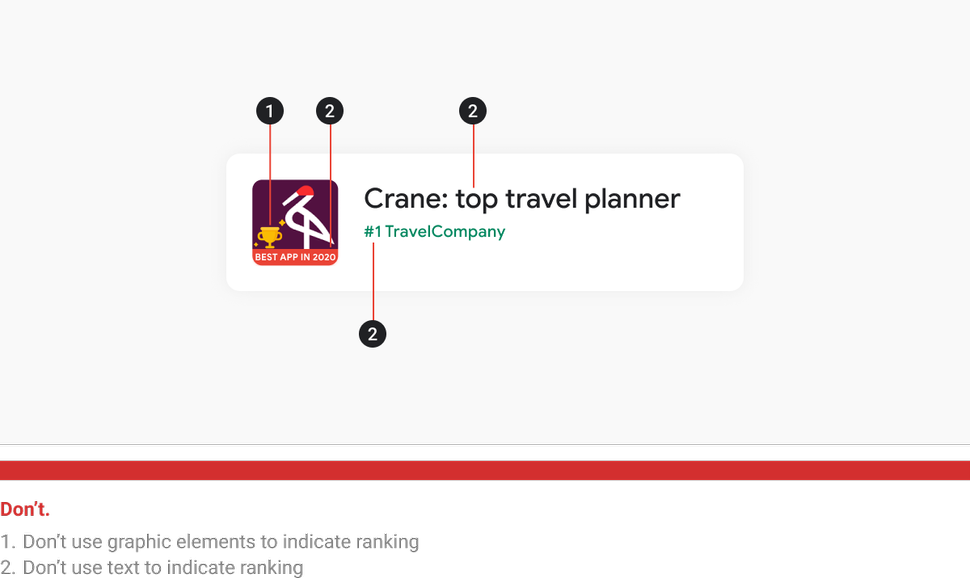 Another popular stunt that gets attention is for developers to try and include promotional information in listings. Adding pricing information, mentioning a lack of ads, or highlighting a sale will not be allowed, as evidenced by this fake ad that mysteriously manages to be both free and on sale, but you get the idea.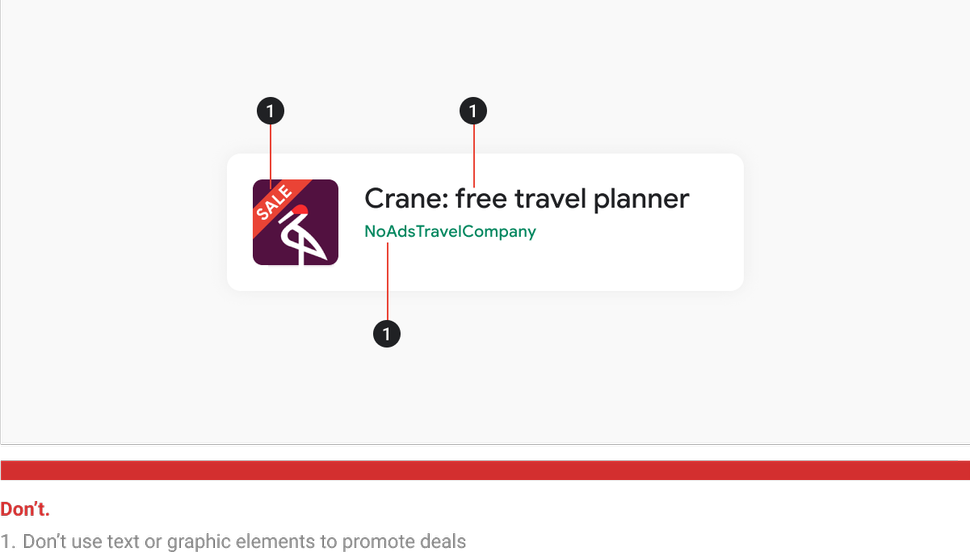 Then there are apps that use the list and icon to trick downloads or worse, trick users into thinking they're updating an app they already own. It's clearly demonstrated here, where Crane has both an "update now" text and a little notification icon.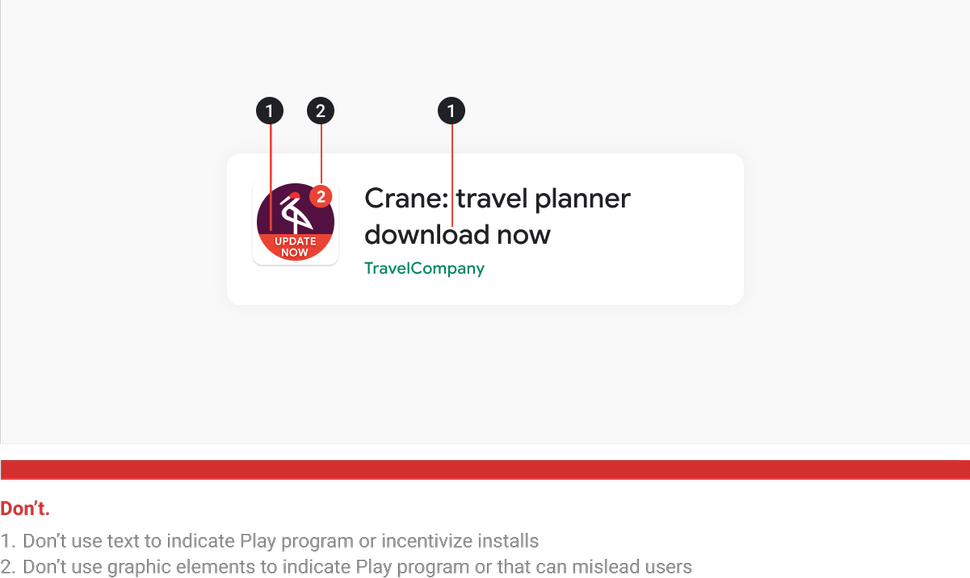 Finally, Google Play prohibits the use of emoji, special characters "unrelated to the application" and ads in uppercase (with a special exemption if the brand name is in uppercase.) This means the end of ads like this: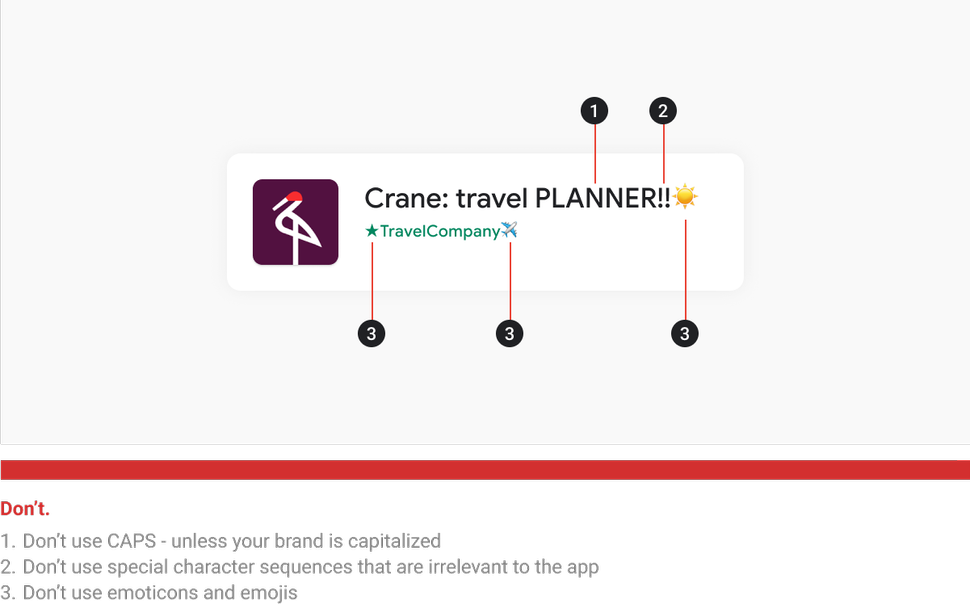 In addition to these rules, Google says app titles will be limited to 30 characters, possibly to avoid keyword stuffing and to make listings generally more readable.
Regardless of that, the blog post also reveals that Google is updating its guidelines for preview items. Graphics, videos and descriptions should "accurately represent" applications and games while providing enough information to users, without using words like "free" or "best".
Unlike the title and icon rules, Google does not suggest that apps that violate will be blocked from the store, but states that "assets that do not meet our guidelines may be ineligible for promotion and referrals." which should suffice. threat to ensure compliance for ambitious developers. This change will take effect in the second half of 2021.